Dayanand College of arts has been established in 1961 and the college library has been separated from 1971. At starting period of 1970 to 1975 the college library has the collection of 19,048 Books. Today the library has a large collection of Books Journals periodical's & magazines. Today's total Number of Books is 97116 in various head's there are 23 Daily News Paper's & 60 magazines. The library has an area of about 5000 Sq.Ft. with the facilities of
Separate boys Reading Room
Separate Girls Reading Room
Separate Research Reading Room
A Separate Reference Section
Separate Reading Room for Staff.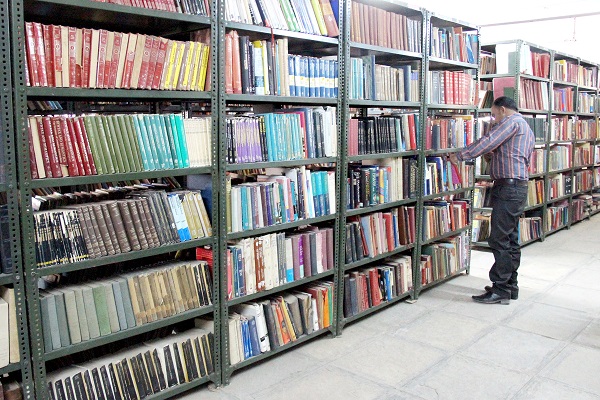 Total staff of Library
Librarian – 1
Library Clerk – 1
Library Attendant – 5
Total staff  – 10
Time-Table        
On working days (Library) = 9.30 am to 5.40 pm
Reading Room = 9.30 am to 11.00 pm
Before examination days = 9.30 am to 5.40 pm
During examination days = 9.30 am to 5.40 pm
During vacation = 9.30 am to 5.40 pm
The Library for Competitive Examination Cell remains open on all days from 7.00 am to 11.00 pm
Library Committee
The Advisory Committee ensures the various infrastructural facilities in the library. It has advised to take note of the visitors in the register, to make a separate section for news papers, to make separate counters for UG and PG for issuing books, to carry out yearly assessment of the books and insuring yearly return of the books from the faculties. It has also advised to provide ICT facilities to the users.
| | |
| --- | --- |
| Dr. Vaman Patil (Principal) | Chairperson |
| Dr. Jogendrasingh Bisen (Vice-Principal) | Members |
| Shri. S. M.Dudhabhate (V.P. Jr. College) | Members |
| Dr. P. M. Mannikar (HOD, English Dept.) | Members |
| Shri. Navnath Bhalerao (Office Superintendent) | Members |
| Mrs. Veena Kulkarni (Librarian) | Secretary |
Activities of Library :     
Library is heart of Education and it provides knowledge to every user. For the purpose to know the Books and library strength we have arranged the Book Exhibition.
Our library runs a small library in the slum area called Ramgeer Nagar There are five daily News Papers and one hundred fifty useful Books.